Yeeeeeeeeeah so nothing blogworhty has happened for the past few days. Nor can I think of anything original to make you all laugh. So, some of you will be getting awards. YAY. Try to contain your excitement.
It has been sooooooooooooooo long since I have given awards, I forgot all the rules..
Wait some are coming back to me.
Anyone who gets my homemade award, which by the way I have bestowed it on only one other person Ann from
Ann's Rants
MUST:
Run outside naked in the rain while screaming at the top of your lungs "DIZZBLND LOVES ME"
Print the award and post it all over your house, work and car and where ever else you will be reminded how lucky you are to get this.
Send me $1000 dollars via secret offshore bank account, I will contact you all with the info later.
Post it on your blog or not, it matters not to me.
Without further
bullshit
ado, I award the "Cracking Creativity" award to a few bloggers who impress me ALL the time with their originality.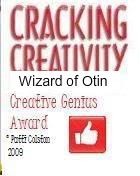 You should check out
Otin's
blog, because you never know if you are going to laugh, cray, be scared shitless or any of a wide range of emotions.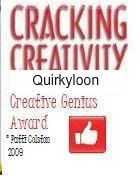 You should check out
Quirkyloon
because she is always making up poems, song parodies and zombie stories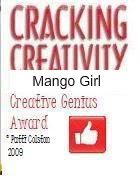 You should really check out
Mango Girl
, she has all of her readers on the edge of our seats writing her true story about her life on an exclusive island. VERY intriguing.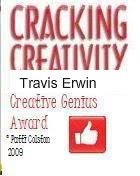 Definitely check out Travis at
One Word, One Rung, One Day
He is a terrific writer and a great guy!. He does a "My Town Monday" post where he gives a little history behind his hometown.
That being done, I have to thank
Mango Girl
for this award:
I hope you don't think I am ungrateful. I know you posted it a while ago and I never said thank you
I also need to thank Reforming Geek for this award:
If any of you gave me an award and I didn't know it, please consider this my "thank you"
If you are highly creative and I didn't give you an award, please forgive me, my brain can only remember so much in the morning (like remembering to hit "publish at 7am this morning, instead of finding I forgot to hit at all and didn't do so until 7 oclock tonight..)
Hopefully, I will win the lottery, or an unknown long lost uncle will die and leave me billions, or a spaceship will land in my back yard and lotsa little gray men will come out and probe me in unmentionable places.
If none of those things happen, you might be stuck with reruns, so pray for something exciting, but good to happen.
PS... Sheeeeeeee's Back! After a temporary lapse of sanity Sassy from
The Life of Sass
has come back to us! She missed us all too much! Go give her a big welcome back!