Last night, my husband and I went to the Ocean Deck in Daytona Beach with my SIL and BIL. We met them at their house and they drove. We have all been soooo broke, but yesterday we got paid. We figured, what better way to get out the Ya Ya's then to go drink ourselves into oblivion.
While waiting on SIL to get ready, she had her Twitter Tweets up on the laptop. Because I refuse to conform and won't get a Twitter of my own, I hijacked hers. I couldn't tell you what I said; I already had 2 drinks and a shot or two of tequila. I am sure it was damn funny.
This is SIL as we were leaving at about 8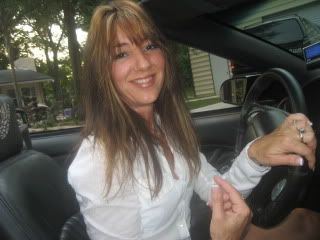 and her as we were driving in her Yellow Firebird convertible with the top down.
We made the mens ride in the back. Where they bitched about being "waterboarded" as we were hauling ass down I-4. Wimps.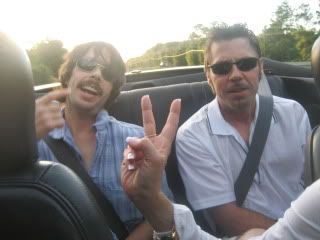 That's my husband on the left who was already half lit. He had started drinking at 4 yesterday afternoon. That logically tells you her husband is on the right. SIL throwing the peace sign
We were instructed by her to remind her to get gas. At this gas station gas was apparently 2 something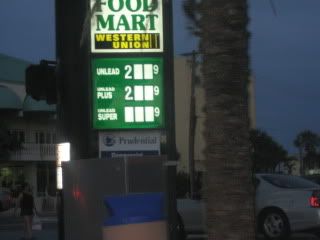 We were scared and didn't go there.
We get to the Ocean Deck and of course it was packed. We got a table some drinks and looked at the menus
Apparently she forgot her reading glasses. I offered to go across the room and hold the menu for her. She didn't appreciate the offer. Her husband had his "smart" glasses on, so he was OK.
I spot this guy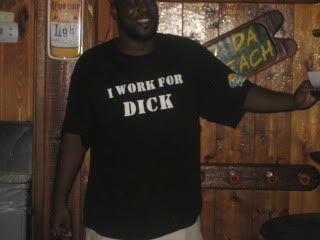 I don't want to know either.
She couldn't get her Blackberry to work to Twitter.. so i gave let her use mine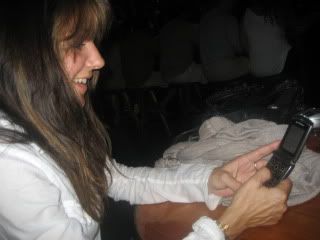 She does admit to being addicted, is not currently seeking help for it and trying to lure me into this seedy world too. Not gonna do it, wouldn't be prudent. I'd never blog again! We can't have that.
After we ate dinner, her and I went down to the beach. She decided to rest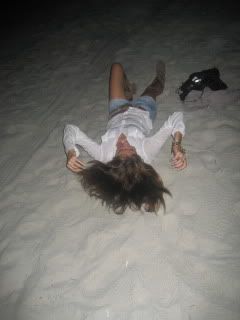 BIL drove home, he had only been drinking beer and not enough to be wasted We were smart enough to have a DD to their house. I was NOT smart enough, however to stay soberish so I could drive home through a cop infested city. After we couldn't reach either The Boy of my daughter to tell them to come get us, we crashed there.
My poor husband woke up to an 80 bound bulldog trying to hump his head. No, I didn't get a pic of that, my camera was dead and I had just woke up.
We had a couple cups of coffee this morning before we left.
The first pictures are when we got home. I still had convertible hair.
Funny, hubby didn't appreciate the flash of the camera much.
I will spend the rest of the day recuperating, for I didn't pass out until 2am or so and the dogs (2 bulldogs and a pitt-whippet mix) kept trying to get on the couches, because that is where THEY sleep. I was up at 6:30 BLAH
please
vote for me