Today marks the day my husband has put up with my shit for 18 years. I have been married for half my life and I'm only 37.
I thought I'd share some humorous events that occurred that day and the day after. I was 3 months pregnant with second child when we got hitched. Keep that in mind as you read.
The ceremony went off with out a hitch. My niece, who was 4 at the time was upset because my B-I-L the Best Man, was walking down the isle with my cousin who was the maid of Honor.
At the reception, my F-I-L, who has since passed, roasted a pig. (that's him on the left and my M-I-L on the right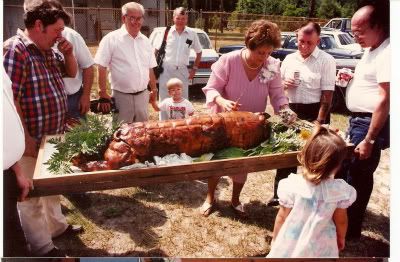 My husband and his dad
Don't let the cake fool you, as beautiful as it was, it tasted horrible. There was anise (licorice flavor) in the cake. BLECH!
The reception was wonderful, food was great. Finally it was time to go off to our hotel. We
tried to get
got into our conversion van similar to this one
But when we opened the doors, the van was FILLED top to bottom with crumpled newspaper. We had to dig our way into the driver and passenger seats. (I looked all over for that picture, but I couldn't find one.)
Finally we were off to Orlando. We get to the hotel, me still in my wedding dress. We get our room only to discover that someone forgot to put my change of clothes in the van. Oh well. We we're in for the night and did some uglies bumping.
Next morning my new darling hubby got up and went out in search for clothing for me. He did really well, I was impressed.
We still hadn't cleaned the newspaper out of the van. The rest of the day we shopped. At the end of the day we stopped at a restaurant for dinner. After we ate, we go back to the van. It was locked, and as my hubby desperately searched for keys, he peeks in and realizes he has locked them in the ignition. YAY. So, although 3 months pregnant, I was still the smaller of the two of us, so I got elected to climb in the side windows, which slid up and were 5in high and about 9 inches wide. So he boosted me up and I squirmed and squeezed at the same time swimming through the sea of paper trying to get back to the front of the van.
We laughed about it the whole way back to the hotel and still laugh about it today
We are probably on youtube somewhere
Happy anniversary honey. I love you!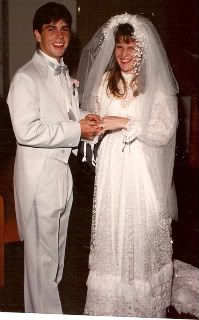 please
vote for me