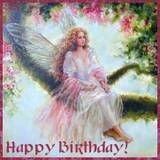 It is hard to believe that 18 years ago today you came into this world at
1 lb-11 1/2 oz and fought for your life. You were so small and so fragile I was afraid to even touch you. I wasn't even sure if you would survive. But on Christmas day, when they wheeled me in to see you, I reached my hand in your "condo" as they called the incubator, and you grabbed my finger and held so tight, I looked at your head nurse Tracey, and said, "She's going to make it!" For four months you stayed in your condo with so many tubes, wires and needles everywhere and fought hard. You had angels all around human and other worldly to help you fight and to keep us all strong for you. We continued to be in awe at this beautiful Christmas present God had given us. You never ceased to amazed us with all of your ups and downs.
Here you are 18 years later as beautiful, smart, wonderful, and talented as ever. Words simply can not express how I feel on this day. Thank you for being you.
We love you!
Happy Birthday Angel!